PEDAL TO




THE METAL
Hybrid and electric vehicles are the future of the automotive industry. With demand for Li-ion batteries set to skyrocket over the next few years, today's testing infrastructure will need some help to keep up.
Learn how you can get to market faster — and with more certainty — with a ready-made, full-service EV battery testing lab.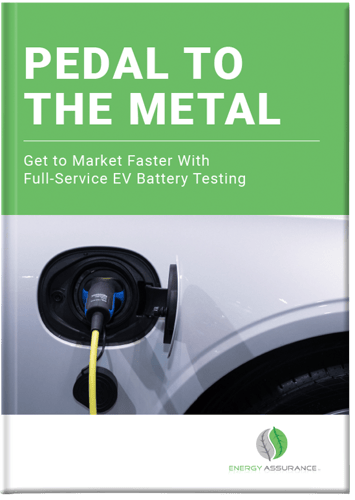 In this eBook, you'll discover:
How EV battery testing fits into the all-electric future
The kinds of tests a full-service battery lab can offer
Performance testing protocols for next-gen EV batteries
Safety testing accreditations that will keep you compliant
Proactive and reactive approaches to engineering & failure analysis
Capabilities, capacity, and equipment at our EV battery testing lab
And more!
Focused Testing
We're one of the largest battery testing labs for small and medium format in North America with almost 1,000 cycling channels and an environmental chamber capacity of more than 100 cubic feet.
Expanded Services
We offer not only regulatory but performance testing services for a breadth of batteries, including lithium-ion, to provide product insight and competitive comparison. We aim to be the only battery testing partner you need!
Upfront Transparency
Maintaining complete transparency of our testing procedures ensures our customers are knowledgeable and in control. We ensure you're always aware of what's happening throughout battery testing procedures.
Hear what our customers are saying

"Cindy Millsaps and John Copeland, of Energy Assurance, are thought leaders in the lithium ion battery testing space and I know they will always provide the highest level of customer support, while solving complex battery related testing issues, for our PRBA members."